Pro Cycling Calendar 2023 - Men's Elite
The 2023 cycling year is anticipated to be the first complete year on the global cycling calendar after a series of seasons were disrupted by the pandemic. As per the Leader's Jersey, the calendar for the year has been released, and fans can expect to witness their favorite cycling events such as the classics in April, Giro in May, Tour in July, and Vuelta in August/September.
Nevertheless, there is an exciting change on the calendar with the European and World Championships cycling switch. Notably, the European Championship, which is scheduled to take place in Drenthe, has been moved to September.
To get a complete overview of the calendar, check out the summary below!
Category Legend
2-UWT: World Tour Stage R
1-UWT: World Tour One-Day Race
2.Pro: Pro Tour Stage Race
1.Pro: Pro Tour Stage Race
2.1: Stage Race
1.1: One-Day Race
Men's Cycling Calendar - January 2023
| | | | |
| --- | --- | --- | --- |
| Date | Contest | Category | Winner |
| January 17-23 | Tour Down Under | 2.UWT | Jay Vine |
| January 22 | Classica Comunitat Valenciana | 1.1 | Arnaud De Lie |
| January 22-29 | Tour of San Juan | 2.1 | Miguel Ángel López |
| January 25 | Trofeo Calvia | 1.1 | Rui Costa |
| January 26 | Trofeo Alcudia | 1.1 | Marijn van den Berg |
| January 27 | Trofeo Andratx | 1.1 | Kobe Goossens |
| January 28 | Trofeo Serra de Tramuntana | 1.1 | Kobe Goossens |
| January 29 | Trofeo Palma-Palma | 1.1 | Ethon Vernon |
| January 29 | Cadel Evans Great Ocean Road Race | 1.UWT | Marius Mayrhofer |
| January 29 | GP La Marseillaise | 1.1 | Neilson Powless |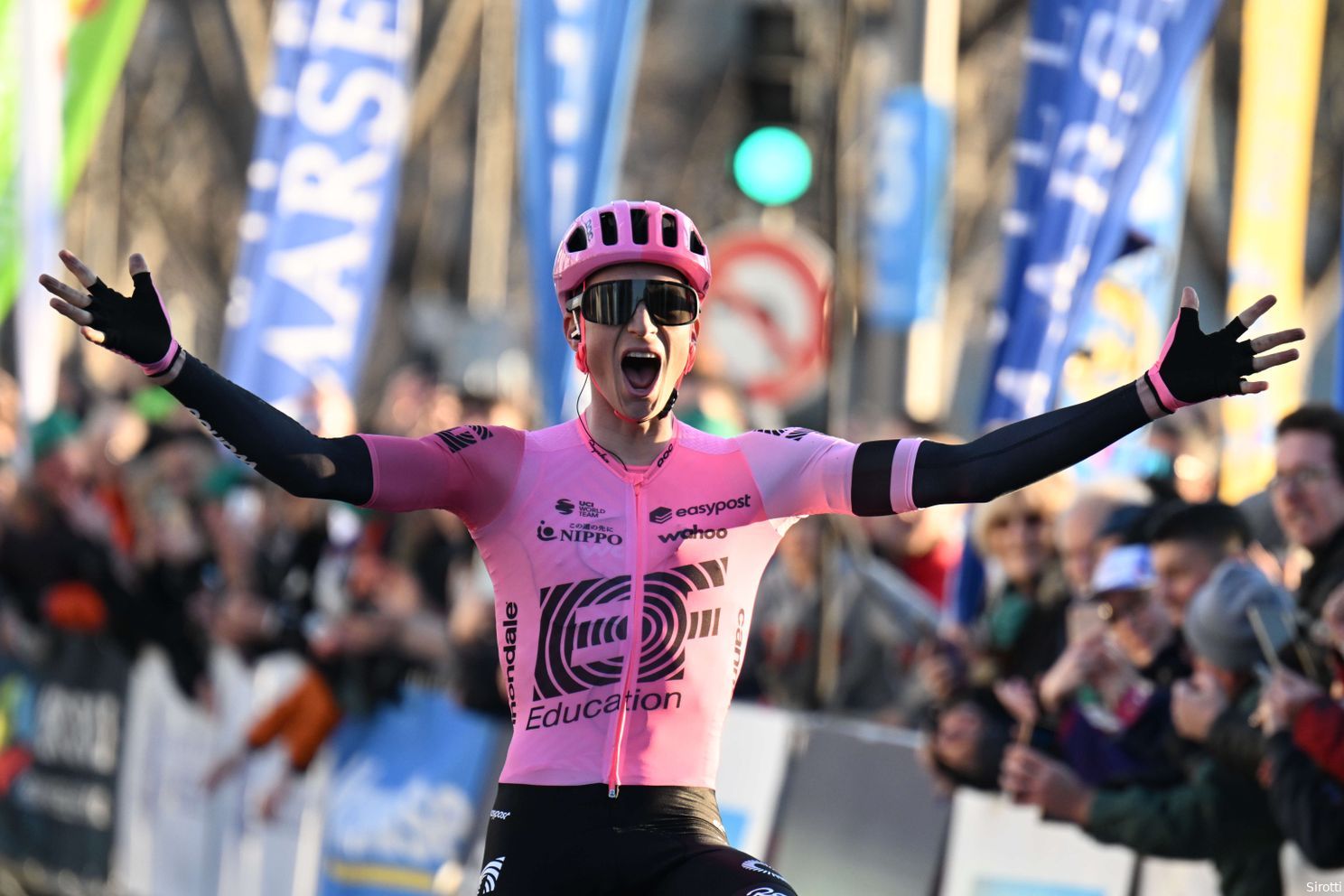 Men's Cycling Calendar - February 2023
| | | | |
| --- | --- | --- | --- |
| Date | Contest | Category | Winner |
| January 30 - February 3 | Saudi Tour | 2.1 | Ruben Guerreiro |
| February 1 - 5 | Tour of Valencia | 2.Pro | Rui Costa |
| February 1 - 5 | Star of Bessèges | 2.1 | Neilson Powless |
| February 10 | Muscat Classic | 1.1 | Jenthe Biermans |
| February 11 | Tour of Murcia | 1.1 | Ben Turner |
| February 11 - 14 | Tour of Oman | 2.1 | Matteo Jorgenson |
| February 12 | Classic of Almería | 1.Pro | Matteo Moschetti |
| February 12 | Figuera Champions Classic | 1.1 | Casper Pedersen |
| February 13 | Jaén Paraiso Interior | 1.1 | Tadej Pogacar |
| February 15 - 19 | Tour of the Algarve | 2.Pro | Daniel Felipe Martínez |
| February 15 - 19 | Tour of Andalusia | 2.Pro | Tadej Pogacar |
| February 17 - 19 | Tour of the Alpes Maritimes du Var | 2.1 | Kévin Vauquelin |
| February 19 - 26 | Tour of Rwanda | 2.1 | Henok Mulubrhan |
| February 20 - 26 | UAE Tour | 2.UWT | Remco Evenepoel |
| February 23 - 26 | Gran Camino | 2.1 | Jonas Vingegaard |
| February 25 | Omloop Het Nieuwsblad | 1.UWT | Dylan van Baarle |
| February 25 | Faun-Ardéche Classic | 1.Pro | Julian Alaphilippe |
| February 26 | Kuurne–Brussels–Kuurne | 1.Pro | Tiesj Benoot |
| February 26 | Faun Drome Classic | 1.Pro | Anthony Perez |
| February 28 | Le Samyn | 1.1 | Milan Menten |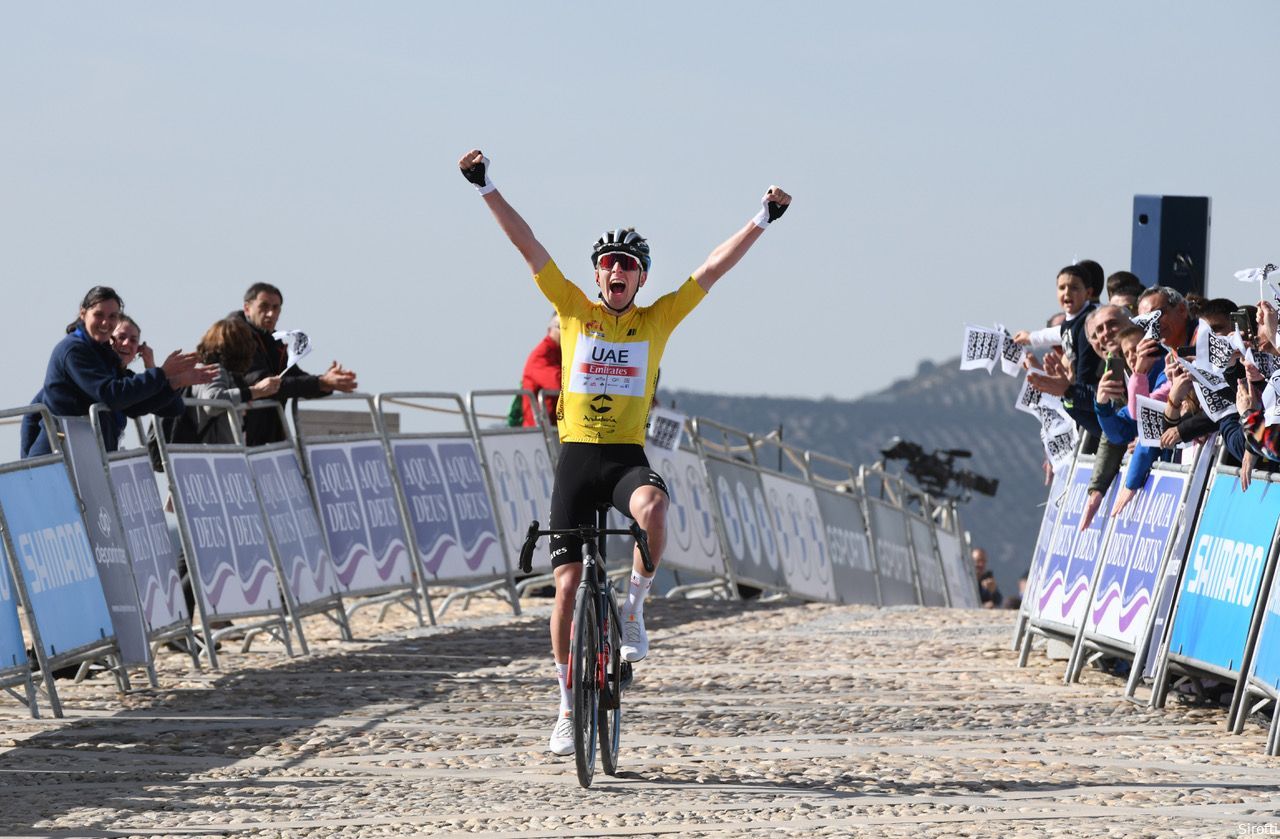 Men's Cycling Calendar - March 2023
| | | | |
| --- | --- | --- | --- |
| Date | Contest | Category | Winner |
| March 1 | Trophy of Laigueglia | 1.Pro | Nans Peters |
| March 4 | White Roads | 1.UWT | Tom Pidcock |
| March 4 | Grand Prix Criquielion | 1.1 | Sam Welsford |
| March 5 - 12 | Paris-Nice | 2.UWT | Tadej Pogacar |
| March 5 | Jean - Pierre Monseré | 1.1 | Gerben Thijssen |
| March 6 - 12 | Race of the Two Seas | 2.UWT | Primoz Roglic |
| March 12 | Tour of Drenthe | 1.1 | Per Strand Hagenes |
| March 15 | Milano–Torino | 1.Pro | Arvid de Kleijn |
| March 15 | Nokere Koerse | 1.Pro | Tim Merlier |
| March 16 | Grand Prix of Denain | 1.Pro | Juan Sebástian Molano |
| March 17 | The Bredene Koksijde Classic | 1.Pro | Gerben Thijssen |
| March 18 | The Spring classic | 1.UWT | Mathieu van der Poel |
| March 18 | Classic Loire Atlantique | 1.1 | Axel Zingle |
| March 19 | Cholet - Pays de Loire | 1.1 | Laurence Pithie |
| March 19 | Per Sempre Alfredo | 1.1 | Felix Engelhardt |
| March 20 - 26 | Tour of Catalonia | 2.UWT | Primoz Roglic |
| March 21 - 25 | International Week of Coppi and Bartali | 2.1 | Mauro Schmid |
| March 22 | Classic Brugge-De Panne | 1.UWT | Jasper Philipsen |
| March 24 | E3 Saxo Classic | 1.UWT | Wout van Aert |
| March 26 | Gent-Wevelgem | 1.UWT | Christophe Laporte |
| March 26 | GP Industria & Artigianato | 1.Pro | Ben Healy |
| March 26 | Trophée Groupama Paris Val de Loire | 1.1 | Rory Townsend |
| March 29 | Across Flanders | 1.UWT | Christophe Laporte |
| March 31 | Route Adélie de Vitré | 1.1 | Frederik Dversnes |
Men's Cycling Calendar - April 2023
| | | | |
| --- | --- | --- | --- |
| Date | Contest | Category | Winner |
| April 1 | Volta Limburg Classic | 1.1 | Kaden Groves |
| April 1 | GP Miguel Indurain | 1.Pro | Ion Izagirre |
| April 2 | Tour of Flanders | 1.UWT | Tadej Pogacar |
| April 3 -8 | The Tour of the Basque Country | 2.UWT | Jonas Vingegaard |
| April 4 - 7 | Circuit of Sarthe | 2.1 | Alexander Kamp |
| April 5 | Grand Prize of the Scheldt | 1.Pro | Jasper Philipsen |
| April 9 | Paris-Roubaix | 1.UWT | Mathieu van der Poel |
| April 11 | Paris-Camembert | 1.1 | Valentin Ferron |
| April 11 - 14 | Tour of Sicily | 2.1 | Alexey Lutsenko |
| April 12 | Brabant Arrow | 1.Pro | Dorian Godon |
| April 14 | Classic Grand Besançon | 1.1 | Victor Lafay |
| April 15 | Tour of the Jura | 1.1 | Kévin Vauquelin |
| April 16 | Amstel Gold Race | 1.UWT | Tadej Pogacar |
| April 16 | Tour of Doubs | 1.1 | Jesus Herrada |
| April 17 - 21 | Tour of the Alps | 2.Pro | Tao Geoghegan Hart |
| April 19 | The Walloon Arrow | 1.UWT | Tadej Pogacar |
| April 23 | La Doyenne | 1.UWT | Remco Evenepoel |
| April 23 - 30 | Tour of Turkey | 2.1 | |
| April 25 - 30 | Tour of Romandie | 2.UWT | |
| April 28 - 30 | Tour of Asturias | 2.1 | |
Men's Cycling Calendar - May 2023
| | | | |
| --- | --- | --- | --- |
| Date | Contest | Category | Winner |
| May 1 | Eschborn-Frankfurt | 1.UWT | |
| May 5 | Classique Morbihan | 1.Pro | |
| May 6 - 28 | Tour of Italy | 2.UWT | |
| May 7 | Tour of Léon | 1.Pro | |
| May 10 - 14 | Tour of Hungary | 2.Pro | |
| May 13 | Tour du Finistére | 1.1 | |
| May 16 - 21 | Four days of Dunkirk | 2.Pro | |
| May 20 | Veenendaal-Veenendaal Classic | 1.1 | |
| May 21 | Tour of Cologne | 1.1 | |
| May 21 | Antwerp Port Epic | 1.1 | |
| May 25 - 28 | Bends of the Mayenne | 2.Pro | |
| May 26 - 29 | Tour of Norway | 2.Pro | |
| May 30 | Mercan'Tour Classic Alpes-Maritimes | 1.1 | |
Men's Cycling Calendar - June 2023
| | | | |
| --- | --- | --- | --- |
| Date | Contest | Category | Winner |
| June 2 | Tour of the Apennines | 1.1 | |
| June 3 | Heylen Vastgoed Heistse Pijl | 1.1 | |
| June 4 | Brussels Cycling Classic | 1.Pro | |
| June 4 - 11 | Critérium du Dauphiné | 2.UWT | |
| June 7 - 11 | ZLM Tour | 2.Pro | |
| June 10 | Dwars door het Hageland | 1.Pro | |
| June 11 | Elfstedenronde Brugge | 1.1 | |
| June 11 - 18 | Tour of Switzerland | 2.UWT | |
| June 13 | Mont Ventoux Dénivelé Challenge | 1.Pro | |
| June 14 - 18 | Baloise Belgium Tour | 2.Pro | |
| June 14 - 18 | Tour of Slovenia | 2.Pro | |
| June 15 - 18 | Route d'Occitanie | 2.1 | |
| June 22 - 26 | Tour of Wallonia | 2.Pro | |
| June 24 - 25 | National Championships | NC | |
Men's Cycling Calendar - July 2023
| | | | |
| --- | --- | --- | --- |
| Date | Contest | Category | Winner |
| July 1 - 23 | Tour de France | 2.UWT | |
| July 2 - 6 | Tour of Austria | 2.1 | |
| July 6 - 9 | Sibiu Cycling Tour | 2.1 | |
| July 9 - 16 | Tour of Qinghai Lake | 2.Pro | |
| July 15 | Slag om Norg | 1.1 | |
| July 25 | Classic of Ordizia | 1.1 | |
| July 26 - 27 | Tour of Castile and León | 2.1 | |
| July 27 - 30 | Tour of the Czech Republic | 2.1 | |
| July 29 | Classic of San Sebastián | 1.UWT | |
| July 29 - August 4 | Tour of Poland | 2.UWT | |
| July 30 | Circuito de Getxo | 1.1 | |
Men's Cycling Calendar - August 2023
| | | | |
| --- | --- | --- | --- |
| Date | Contest | Category | Winner |
| August 3 - 13 | WK Wielrennen | NC | |
| August 8 - 10 | Tour of the Ain | 2.1 | |
| August 13 | Polynormand | 1.1 | |
| August 15 - 18 | Tour of Limousin | 2.1 | |
| August 15 - 19 | Tour of Denmark | 2.Pro | |
| August 17 - 20 | Arctic Race of Norway | 2.Pro | |
| August 19 | Druivenkoers Overijse | 1.1 | |
| August 20 | BEMER Cyclassics | 1.UWT | |
| August 22 - 25 | Tour of the Poitou-Charentes | 2.1 | |
| August 23 - 27 | Benelux Tour | 2.UWT | |
| August 23 - 27 | Deutschland Tour | 2.Pro | |
| August 26 - 27 | Tour of Spain | 2.UWT | |
Men's Cycling Calendar - September 2023
| | | | |
| --- | --- | --- | --- |
| Date | Contest | Category | Winner |
| September 3 | Bretagne Classic | 1.UWT | |
| September 3 | Tour of Leuven | 1.1 | |
| September 3 | Maryland Classic | 1.Pro | |
| September 3 - 10 | Tour of Britain | 2.Pro | |
| September 8 | Grand Prix of Québec | 1.UWT | |
| September 10 | Grand Prix of Montréal | 1.UWT | |
| September 10 | Grand Prix of Fourmies | 1.Pro | |
| September 13 | Grand Prix of Wallonie | 1.Pro | |
| September 13 | Tour of Tuscany | 1.1 | |
| September 13 - 17 | Tour of Slovakia | 2.1 | |
| September 14 - 17 | Tour of Taihu Lake | 2.Pro | |
| September 15 | Championship of Flanders | 1.1 | |
| September 16 | Memorial Marco Pantani | 1.1 | |
| September 17 | Gooikse Pijl | 1.1 | |
| September 17 | Grand Prix of Isbergues | 1.1 | |
| September 20 - 24 | European Cycling Championships | NC | |
| September 20 | Tour of the Woodland | 1.1 | |
| September 20 - 24 | Tour of Luxembourg | 2.Pro | |
| September 20 - 24 | Adriatica Ionica Race | 2.1 | |
| September 23 - 30 | Tour of Langkawi | 2.Pro | |
| September 24 | Classique Paris-Chauny | 1.1 | |
| September 26 - October 1 | CRO Race | 2.1 | |
| September 30 | Tour of Emilia | 1.Pro | |
Men's Cycling Calendar - October 2023
| | | | |
| --- | --- | --- | --- |
| Date | Contest | Category | Winner |
| October 1 | Tour of Vendée | 1.1 | |
| October 1 | La Fammene Ardenne Classic | 1.1 | |
| October 2 | Bernocchi Cup | 1.Pro | |
| October 3 | Three Varesine Valleys | 1.Pro | |
| October 3 | Memorial Frank Vandenbroucke | 1.1 | |
| October 3 | Sparkassen Münsterland Giro | 1.Pro | |
| October 5 | Paris–Bourges | 1.1 | |
| October 5 | Tour of Piedmont | 1.Pro | |
| October 7 | Tour of Lombardy | 1.UWT | |
| October 8 | Paris-Tours | 1.Pro | |
| October 11 | Tour of Veneto | 1.Pro | |
| October 12 - 17 | Tour of Guangxi | 2.UWT | |
| October 15 | Veneto Classic | 1.Pro | |
| October 15 | Japan Cup | 1.Pro | |
| October 15 | Chrono des Nationas | 1.1 | |