While the Giro d'Italia tackles the high mountains these days, the Tour of Norway kicks off in the city of Bergen. Dutch fans will surely remember this place from the 2017 UCI Road World Championships, where Tom Dumoulin claimed the time trial gold. IDLProCycling.com tells you everything you need to know about day one of the Tour of Norway!
Course prologue Tour of Norway 2023
The Tour of Norway starts in Bergen, where Dumoulin says he had his best day ever at the 2017 World Championships. The Dutch cyclist won the gold medal by finishing a distance of 31 kilometers a staggering 57 seconds faster than second-place Primoz Roglic and 1.21 minutes faster than third-place Chris Froome.
That time trial also finished at Mount Fløyen, offering a magnificent view of the city of Bergen. However, before reaching the challenging hill via the Fløibanen station (the supporters' carriage to the top of Mount Fløyen), we will first ride 3.6 kilometers along the city's coastline.
In total, the prologue is only 7.4 kilometers long, but with a 3.4-kilometer hill averaging a nine percent gradient, we will already see the first differentiations in the standings. Who will perform well, and who will struggle?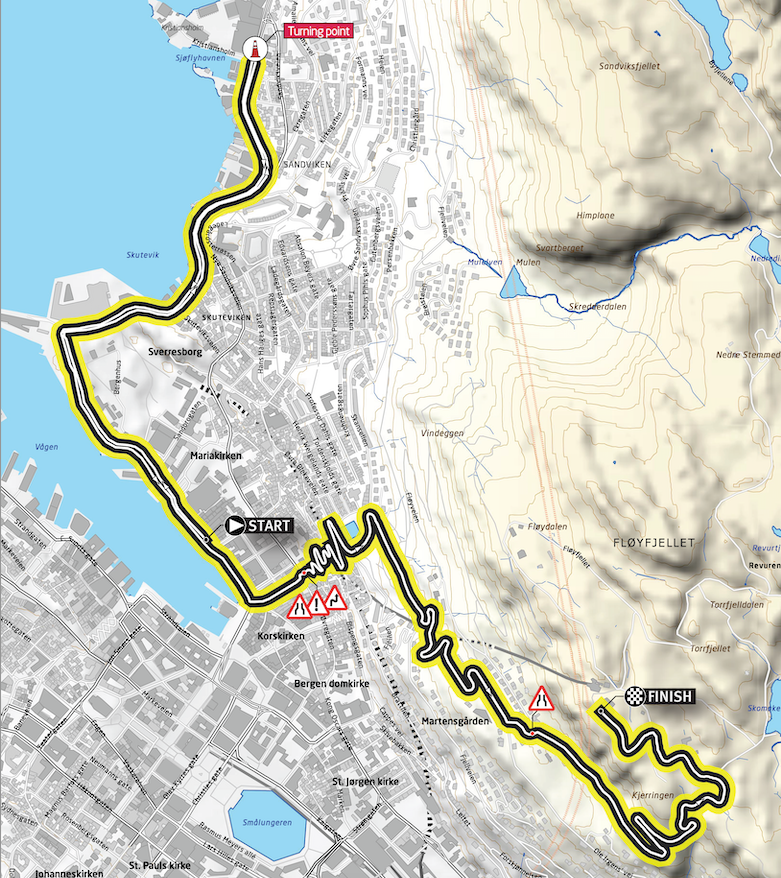 Times
Start: 5:30 p.m. (first rider)
Finish: 8:00 p.m. (last rider)
Weather prologue Tour of Norway 2023
The riders are fortunate this Friday. It has been raining a lot in the vicinity of Bergen these last few days, but the weather is expected to be dry during the time trial. The temperature will be 11 degrees Celsius, and for a significant portion of Mount Fløyen, the riders will enjoy a tailwind.
Favorites prologue Tour of Norway 2023
There won't be time trialists of Dumoulin's caliber at the start, let's be honest about that. However, we do have some young riders who, in a few years' time, could be recognized as strong performers when racing against the clock. One of them is Magnus Sheffield, the American top talent with Norwegian roots from INEOS Grenadiers. He already finished second in this year's Tour Down Under prologue and third in the opening stage of Tirreno-Adriatico.
The British team's Ben Tulett can also perform quite well against the clock. He placed third in the final time trial of the Étoile de Bessèges, with a finish atop Áles. An even younger teammate, Joshua Tarling, even finished second there. And Luke Plapp should be capable of a high performance as well, so there are plenty of options among the INEOS cannons. And that is before we even mention Leo Hayter.
The other major team, Jumbo-Visma, also has several great options. However, the climb up Mount Fløyen may be too much for Mick and Tim van Dijke, while Attila Valter and Johannes Staune-Mittet are likely to lose time during the first part, compared to riders like Tarling and Sheffield.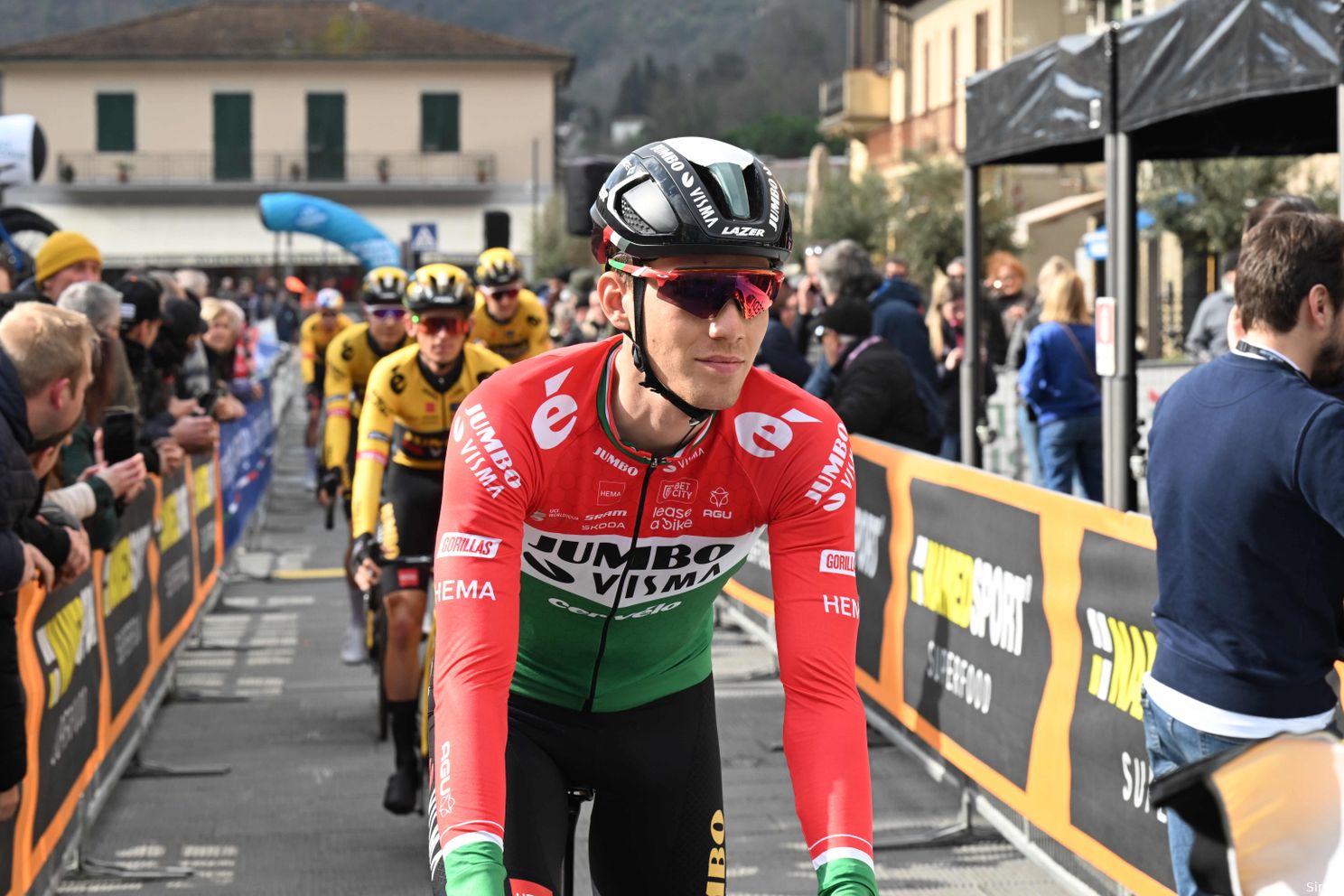 EF Education-EasyPost is also a team known for having traditionally strong time trialists. For this prologue, they will likely rely on the slender climber Simon Carr. We can also include Tobias Halland Johannessen (Uno-X) and rising star Marco Brenner (Team DSM) in the list of names that could surprise us, along with the impressively fast Rune Herregodts of Intermarché-Circus-Wanty.
Additionally, there are a few punchers who could potentially surprise us with their sharp legs. What can we expect from Thibau Nys (Trek-Segafredo) and his teammate Mathias Vacek, for example? Or Ide Schelling, who, on his good days, can deliver a solid time trial for BORA-hansgrohe? Who knows, the Dutch rider Bart Lemmen (Human Powered Health) might even pull off a surprise, considering he finished fourth in the final time trial of O Gran Camino this year.
Favorites prologue Tour of Norway 2023, according to IDLProCycling.com
Top favorites: Magnus Sheffield and Ben Tulett (both INEOS Grenadiers)
Shadow favorites: Attila Valter (Jumbo-Visma), Joshua Tarling (INEOS Grenadiers) and Ide Schelling (BORA-hansgrohe)
Longshots: Marco Brenner (Team DSM), Tobias Halland Johannessen (Uno-X), Leo Hayter, Luke Plapp (both INEOS Grenadiers), Johannes Staune Mittet (Jumbo-Visma), Thibau Nys (Trek-Segafredo), Rune Herregodts (Intermarché-Circus-Wanty) and Bart Lemmen (Human Powered Health)
Tom van der Salm (Twitter: @TomvanderSalm) | email: t.vandersalm@indeleiderstrui.nl)
At Bet365 you will receive a welcome bonus of 100 euros, at Jacks a welcome bonus of 50 euros!
If you play responsibly, you'll keep things fun. What does gambling cost you? Stop in time, 18+
Looking for more interesting betting tips? Please visit Sportbookies.eu.